Get The Team Together with Vitel Global Communications Video Conference Bridge Feature
Business Phone Systems
While conference bridges and other business phone system solutions work well in many situations, sometimes you just need a face-to-face meeting. Video Conferencing Bridge solutions for businesses have many uses in the modern office, some of which are unexpected. Many in-person meetings and tasks can actually be accomplished with similar results using video conferencing, which can save time and money by reducing the need for employee travel. Here are five uses for video conferencing that can help your business become more productive, spend less time and money, and place less emphasis on physical locations.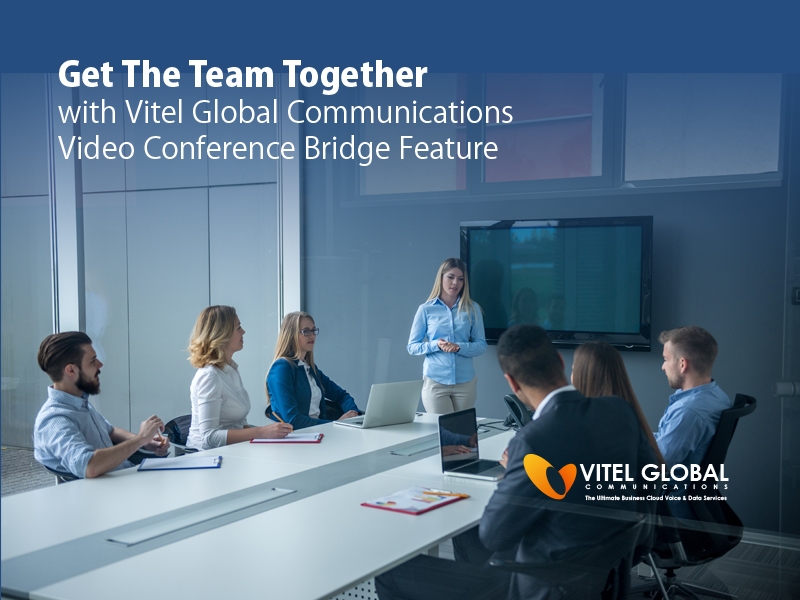 One-on-One Conversations
Whether they are scheduled months in advance or are done on the fly, one-on-one meetings are a valuable part of being in a physical office. Video Conferencing can not only provide this, but it can also open the door for businesses to place less importance on physical locations. Video conferencing products are also offering the option to have a "room" open at all times so that coworkers can drop in without notice and talk to whoever is online for a quick chat.
Group Meetings
Most of the Small Businesses Prefer Traditional telephone conference calls for group meetings, but they have their own drawbacks. For people who have trouble identifying people based on their voices, following along with conference calls can be nearly impossible. Group Meetings using video conferencing give participant's various visual aids to improve communication and allow for greater productivity. Some video conferencing products have features which makes clear cut to which individual is currently talking and visual learners can gain much more from video conferences than traditional conference calls.
Recruiting Efforts
One of the most valuable aspects of video conferencing for business growth is its use in the field of recruiting. With video conferencing, recruitment staff can schedule informational meetings, interviews, and pre-hire assessments, all without the potential employee having to travel. This not only streamlines and humanizes the recruiting process, but it also allows employers to cast a wider geographical net in order to recruit top talent.
Design Reviews, Sales Presentations and More
Many video conferencing features and products allow users to share their computer screens, which is most useful for things like design reviews and sales presentations.
IT Screen Sharing and Remote Access
One of the reasons that many IT professionals love video conferencing products is that they help IT departments do their jobs easier and faster. Rather than trying to explain an issue over the phone, a staff member can simply video chat with the IT department and share their screen so that IT professionals can see the issue firsthand. When this is paired with remote access software, an IT professional can quickly and easily fix the problems of an employee from anywhere.
Business Phone System Solutions from Vitel Global Communications
Want to learn more about the ways we can help improve your business? Vitel Global Communications can satisfy all of your Business Phone System needs, whether you need help with your new VoIP Phone System or just want to change or streamline your existing business phone system network. We have the experts and products to fulfill all of your business phone system and service needs. For more information, contact us at 1-908-818-1535 Visit: https://www.vitelglobal.com.