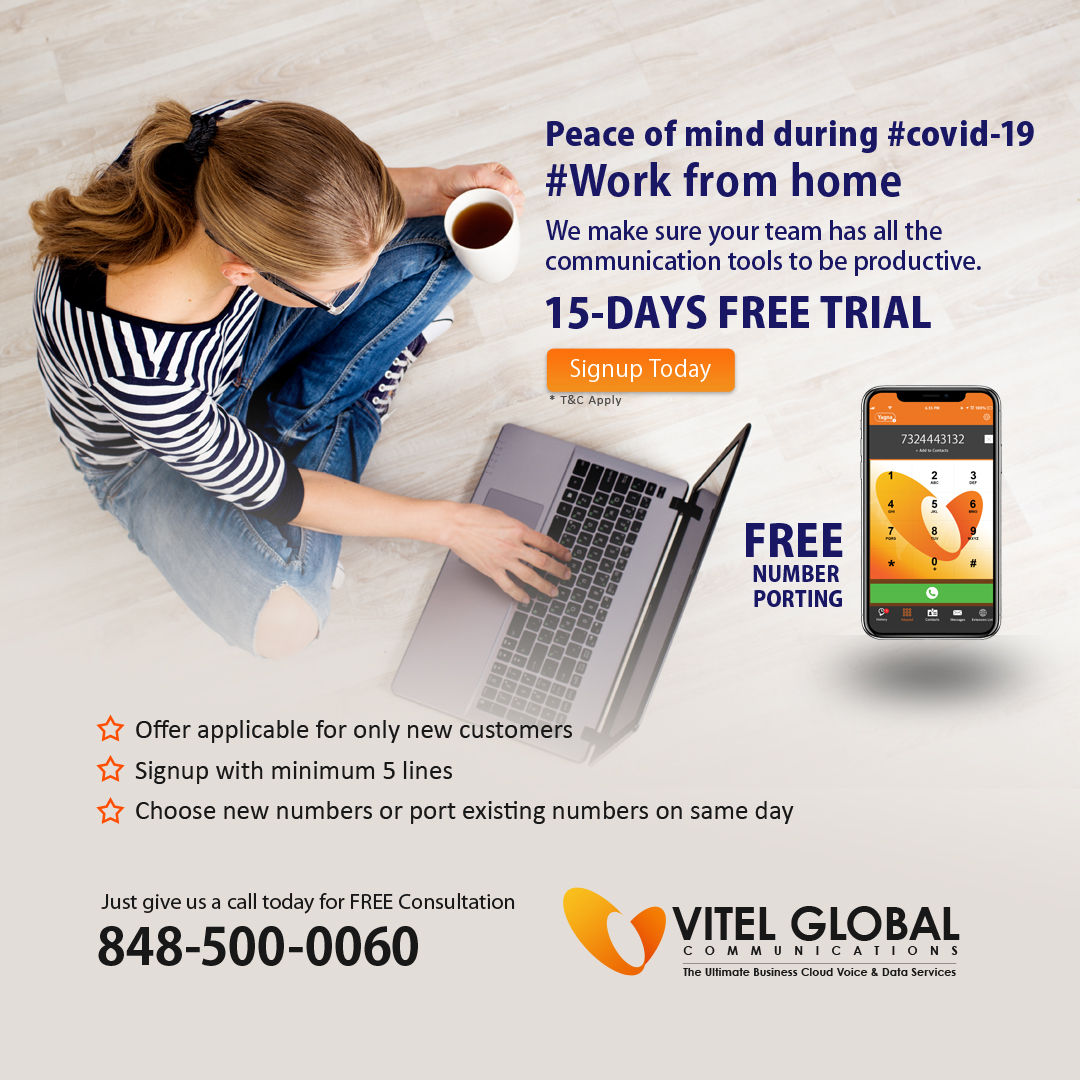 Due to COVID-19 economic conditions are rapidly changing across the world. In such situations, Vitel Global Communication is consistently working to help businesses adapt to the changes with state-of-the-art technology. We are offering advanced business communication solutions that enable you to stay connected with your team at any time and from any location.
Vitel Global provides rich collaboration features with fully customized administrative control that helps you to have enhanced communication experience. We make sure your team has all the communication tools required to be more productive than ever before. We are offering a 15-days free trial that gives you free access to our best-in-class communication tools. With our cloud PBX solution, you can have unlimited incoming phone calls and Vitel Global to Vitel Global calls.
Some additional features include unlimited extensions, auto-receptionist, dial by name directory, advanced call forwarding, reliable phone, and fax service, and many more. Vitel Global provides all the services within affordable price points, as our pricing is non-linear. Our business communication tools offer one-on-one and team messaging along with HD audio and video calls, live call reports, and powerful integrations. With our communication tools, task management and meeting goals become easy. Vitel Global is known for its reliable solutions and modern ideology. Our tools have an interactive design, simple and easy functionality that eliminates all the limitations in business communication, and provide a seamless communication network.
We offer 30+ voice and data features that ride the productivity high. With our call waiting feature, you can quickly see who is calling even while you are on a call, access the other request while putting an active call on hold. Hence, you can sign up today to obtain a 15-days free trial and also enjoy free number porting function. You can sign up with a minimum of 5 lines, so sign up today and enjoy a 15-days free trial.