Business Phone System and Service Providers today operate much differently than they did a few years ago, due in large part to the proliferation of the cloud and virtualization. If your company is considering upgrading or installing a new cloud business phone communications system, Hosted VoIP (Voice over Internet Protocol) is a great option. The benefits of using this kind of system extend far beyond features, affordability and many businesses or organizations continue to be surprised by the ways this Business Phone Communication Services can help them. Vitel Global Communications believes in finding the right business phone system for your company and we will work with you every part of the installation to figure out the best business phone system solution for your business. Here are some features that will be your favorite benefits of Our Hosted PBX and VoIP Phone System and Services.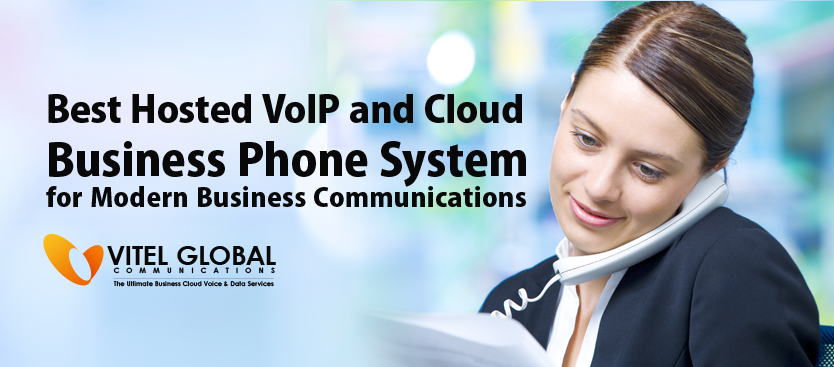 AFFORDABLE PRICING
If you have a legacy business phone system, it takes a lot of time and effort to add features beyond basic functionality. These extra features can also require costly new hardware or additional business phone services. More often than not, these small upgrades can be time-consuming and involve costly service charges.
With our hosted VoIP, features like caller ID, voicemail, call forwarding, and conferencing are already integrated with most of the plans and features automatically included, you won't have to worry about your ever-expanding business phone bill or be surprised by the cost of extra hardware installations.
USER-FRIENDLY
We have seen enormous developments in technology over the last decade. The technology used to be synonymous with "hard to use"–but not these days! Because the culture surrounding technology has adapted toward being user-friendly, you can get the benefits of new technology without struggling to figure out how to use it.
Hosted VoIP is far easier to use than most people think. Your new platform will let you make calls and receive calls very similarly as you would on a traditional VoIP phone system. Hosted VoIP service providers focus on making the set up easy, especially if your company doesn't have an IT team or a tech guru. When we install a VoIP system in your office, Vitel Global Communications Experts will make sure you understand every aspect of the business phone system before we're finished.
24/7 SUPPORT
Hosted VoIP systems typically involve only limited amounts of hardware and a simple setup. In some cases, all you have to do is plug in your phones! Hosted VoIP providers can finish most of the setup remotely with 24/7 support.
Also, because the service runs on the cloud, you won't need devoted IT employees to maintain the system. Upgrades will be pushed remotely and you can add, change, move, or delete users yourself if you prefer. On the rare occasion that you experience any downtime or issues with the system, reputable Hosted VoIP providers offer 24/7 support at no extra cost.
EASY INTEGRATION AND SCALABILITY
If you're already using technology to organize your employees or communications, you would be surprised at how easily Hosted VoIP solutions can actually integrate with your current business communication system. For example, if your organization uses a cloud based CRM platform, your hosted VoIP phone system could be integrated to pull up client records when that client calls in. Voicemail to email functions can streamline communication, making it easier than ever to track clients' needs and problems. Hosted VoIP systems also scale very easily, because the platform doesn't exist on-site and won't be limited by space or resources. When you're a growing organization and you want a system that can grow with you.
FLEXIBILITY
With traditional VoIP and business phone systems, you always need a physical landline to make or answer calls. In order to be productive or client-facing, your employees need to be locked down to desks and locations. Hosted VoIP service integrates with CRMs, Helpdesk and other everyday applications for efficient communication, sales and support.
HOSTED VOIP CAN CHANGE YOUR BUSINESS COMMUNICATIONS
Interested in any of these benefits? Contact America's Phone Guys today! We can walk you through all of your options, designing the perfect VoIP phone system that will grow and change with your business communications.